NEWS RELEASE
PRESIDENT OF ROTARY CENTRAL INSTALLED
GRAND CAYMAN, CAYMAN ISLANDS July 3, 2019 — President Colin Fawkes 2019-2020 installed as 33rd President of Rotary Central Cayman Islands.
Multiple Awardee, Paul Harris Fellow, and Rotarian since 1987, Colin Fawkes was installed as the 33rd President of Rotary Central Cayman Islands, by Past Assistant District Governor, and Past President of Rotary Central, AL Thompson. The Rotary Presidents Regalia was placed on his shoulders by out-going President William Inniss, at 8:45 pm,on Saturday June 29th.   Pres. Colin thereafter directed the pinning and installation of his new Board of Directors who will serve 2019 through 2020. President Colin shared an inspiring message of service and outlined plans for the new year. "Our first programs for the new year will be providing updated IT facilities for the Students at Bonaventure Boys Home, and liaising with the RICPS on how we can assist with driving education and driving standards." He said.
The occasion, hosted by Ristorante Pappagallo in North East West Bay, was witnessed by 92 Rotarians and Guests, including newly minted Rotary Club of Grand Cayman President Malcom Eden, VIPs from Rotaract Blue, Rotaract Club Grand Cayman, the Lions Club of Grand Cayman and the Lions Club of Tropical Gardens.
The gathering celebrated a most successful year undertaken by out-going President William Inniss, who guided Rotary Central Cayman Islands to the epicenter of successful service, and subsequently achieving multiple awards as a leading Club in district 7020, and Rotary International. Out-going President William Inniss now serves District 7020, 7030 and Rotary International Zone 34 which spans Georgia, Florida and the Caribbean as Assistant Rotary Public Image Coordinator.
Out-going President William awarded the Board of Directors that served with him on the 2018-2019 journey, in celebration, the Paul Harris Fellows awardees were named and a pinning ceremony of Club member achievers, and  community leaders took place. One of those recognized for their service to the community was Joann West of Cayman Airways, who served as mentor for the victorious Junior Achievement Company that captured the Gold Medal this year, besting Junior Achievement Companies from Canada, Latin America and the Caribbean at the Regional Competition Awards held in Lima Peru in January. JA is one of the signature programs of Rotary Central.
Among the achievements attained during this previous year, Rotary Central ranked second in District 7020 for contributions made to the Rotary Foundation by it's membership. The "Be the Inspiration" year was made special, as the outgoing International President, Barry Rassin is known personally to the Cayman community, as he hails from Nassau, Bahamas, part of Rotary District 7020.
There are 86 Rotary Clubs encompassing 10 countries over 16 islands across the North West Caribbean, communicating in three languages. Pres. Colin will serve under District Governor Delmo Muduro of the British Virgin Islands and Rotary International President Mark Maloney, who hails from Rotary Club of Decatur Alabama, USA
The Rotary International theme for the year 2019-2020 is "Rotary Connects the World."
 About Rotary
Rotary brings together a global network of volunteer leaders dedicated to tackling the world's most pressing humanitarian challenges. Rotary connects 1.2 million members of more than 36,000 Rotary clubs in over 200 countries and geographical areas. Their work impacts lives at both the local and international levels, from helping families in need in their own communities to working toward a polio-free world. For more information, visit www.RotaryCentral.ky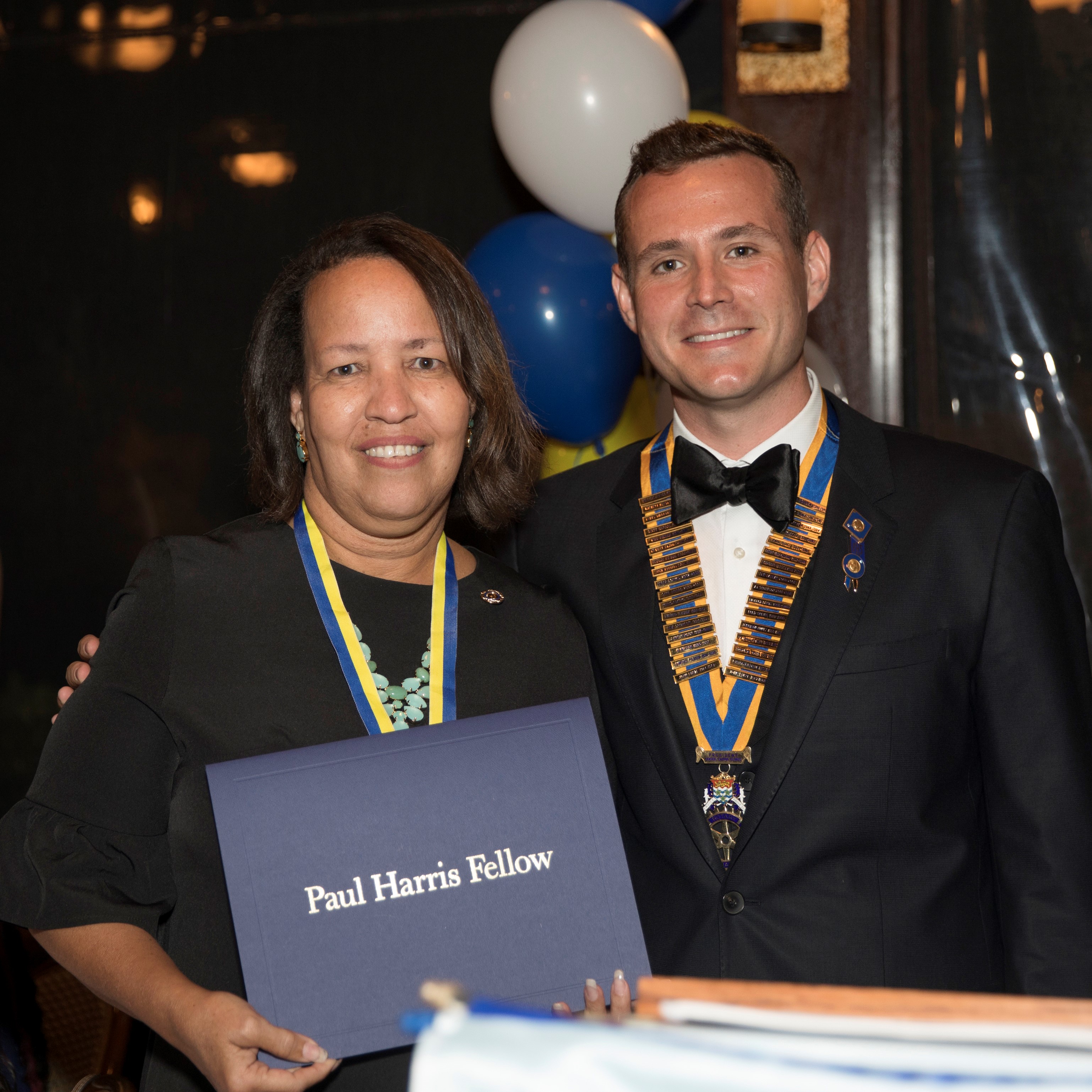 Newly named Paul Harris Fellow of Rotary International, Joann West (left) – receiving her award from Outgoing President William Inniss, for her contributions to Junior Achievement in the Cayman Islands.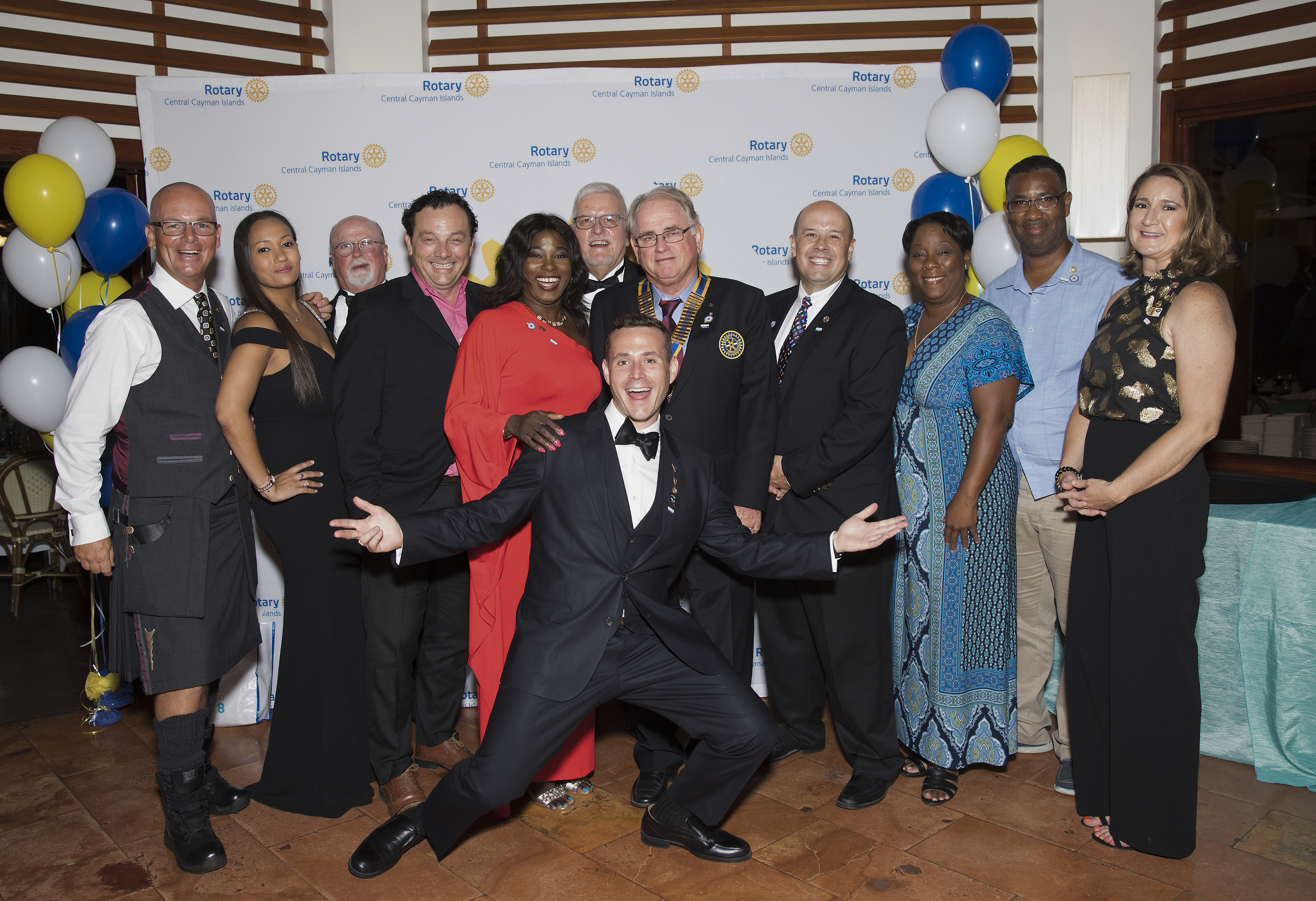 2019-2020 Board of Rotary Central: Left to right, Steve Tippetts, Allison Speirs, Steve Morris, Derik Feher, Corleen Goodman, Naude Dreyer, Colin Fawkes, Paul Arbo, Donna Morris, Mark Watler, Jennnifer Leach-Tippetts. Center, William Inniss