ROTARY CENTRAL EVENTS CALENDAR
In addition to the meetings we host every Tuesday night at George Town Yacht Club, we organise and sponsor and participate in many other events in-island and abroad. Our calender lists these events with locations and times. Tap or scroll over any of the listed events to find out more. You can see alternate views of our event listings under the month header in the calendar.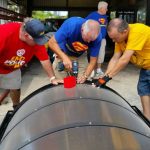 Dear Fellow Rotarians:
Building on the success of our recent Bus Shelter Work Party Weekend Blow out, we are going to have another bus shelter work party this coming Saturday. We have a smashed glass panel to repair, some cracked Plexiglas media panels to replace, maintenance of bus shelters to the far east to attend to, and preparation of more shelters for deployment.
We will kick off as usual at 8:00 a.m. at the truss plant on Portland Road, next to Arch Automotive, on Saturday.
See you there!
Best regards
Paul Keeble (Shelterman)
Cell: 525-0427
https://facebook.com/events/271799436909477