ROTARY CENTRAL EVENTS CALENDAR
In addition to the meetings we host every Tuesday night at George Town Yacht Club, we organise and sponsor and participate in many other events in-island and abroad. Our calender lists these events with locations and times. Tap or scroll over any of the listed events to find out more. You can see alternate views of our event listings under the month header in the calendar.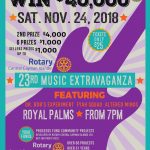 Come out for a night of Great Music and Help Rotary Central Help Your Community! Only $25 per ticket. Proceeds go to fund Rotary Central's many community projects. You could win $40 K or other prizes. Look for Rotary Central members and their sellers at Local Supermarkets, AL Thompsons, Royal Palms Beach Club & Funky Tangs. The fun starts at 7 PM at Royal Palms Beach Club.
https://facebook.com/events/205857356780623